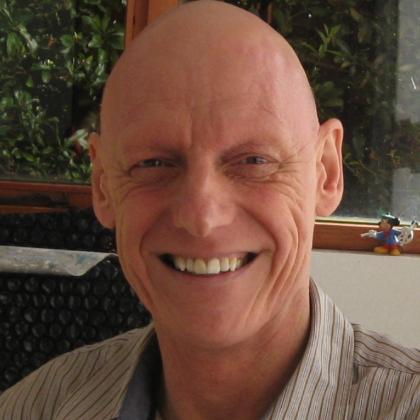 I am an ex-firefighter who grew up in Shirebrook in the coalfields of Derbyshire, UK, at a time when that industry was still a going concern. It was the norm then to view art as something only open to other people and - to my regret - although I have loved painting since before I can remember, I never really considered art as a feasible career. So I did something else with the first part of my working life and art became my private passion rather than my public persona.
I graduated in Economics from the University of Birmingham in 1976 but, after a brief spell in finance, I changed tack and went on to complete over 30 years in the UK fire and rescue service. Although I never really stopped painting entirely I only turned fully to art after my retirement in 2008. Only then, having already brought up a family and completed one demanding career, could I find the time I needed to devote to it.
As an artist I am, almost entirely, self-taught with no formal training beyond school and I still consider myself just a student practicing my art - I probably always will. I may never reach the point where I can say "Now I am an artist"; but my art has always been more about process than end product - so I am comfortable with that. If there is an end point to my journey it would be when I have developed a signature style that's recognisably my own and one that encompasses the best art I can produce.
Painting for me is a kind of ecstasy, an intense & often personal struggle to bring to life a world of accumulated memory & images. It is often exhausting and exhilarating at the same time, but for any of it to mean something to someone else, or give them some lasting pleasure is the ultimate payback. I always try and exhibit because I love people to see my work...... but it's not the reason I paint, it never was. Painting just calms my soul, it's my private world.
My work deals with the fantastical and mundane alike, but in either case painted through the prism of memory. Cognition & memory is central in my approach to art. It's how we learn how to see anything. Observing "art" as with anything else never takes place in a vacuum. It's influenced by the social/cultural background of the observer and is conditioned by their own specific background of visual experiences. As an artist I feel what I paint always has an element of an ideal; a painted apple always carries the seed of how I have previously learned to see an apple – in short my memory. The beauty of this is that while we all "see" the same things we see them slightly differently. If I paint how I want to see it can often prompt a response or reaction in others.
Inspiration for my artwork is twofold; my emotional response to words is very important to me and, visually, the effects of light on colour and form. Direct influences and inspiration for specific paintings often arise from images (or even words or phrases – especially from poetry) in current affairs and the world around me. This is especially so if they strike a chord with my own past or trigger distant personal memories. My imagination can be fired by the unexpected in everyday things, or by a memory. Sometimes just part of a remembered image - perhaps something simple like sunlight playing on a hat brim - can be enough. There is a certain strength or beauty inside everything if you look hard enough – it doesn't have to be something intrinsically pretty, or attractive or especially worthy of attention. Quite often it is better if it isn't.
I try to use my sense of colour and love of form to raise the spirits. One of my abiding hopes is that, like music, art can serve to engender a greater sense of wellbeing - in observer and creator alike. I believe that at its best it can be a simple, joyful experience as well as a vehicle for asking more difficult& fundamental questions about human experience.
I hope you enjoy my work and return often to see how it develops. In the meantime you can see examples of my work at the following galleries;
Hornshaw Gallery, London
Leabrooks Arts Complex, Somercotes, Derbys
Duffield Art Gallery, Duffield, Derbys
Cromford Art Gallery, Cromford, Derbys
Outframed, Ripley, Derbys